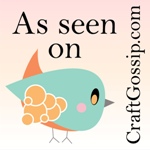 As shown in my Baby Shower #1 post.
Here's what I used"
Wire coat hanger
Ribbon
1-2 small packages of newborn diapers
Embellishment
Scissors
Start by shaping your wire coat hanger into a circle shape. It doesn't have to be perfect. Then, make a loop out of the hook of the hanger. (My pic shows this being done after the fact. It is easier to do beforehand so you do spear yourself with the sharp point like I did.)
Take your first diaper and slip it over the coat hanger fold toward the center.
Wrap the ribbon snuggly around the diaper and close to the wire so the diaper does not easily slide or move on the wire.
Continue to do this until you have the diapers packed around the coat hanger tightly. I didn't put enough in mine so it was pretty floppy.
Embellish with ribbon or other goodies of your choosing.
Tada!!
Linked Up!